Instagram has been around for ten years and during this decade, it has become one of the biggest social media platforms out there, with over one billion monthly active users all around the world.
The visual networking app has grown so much that it is now a powerful digital marketing tool used by businesses of all sizes, industries, and locations.
How powerful, you may ask?
Well, the statistics don't lie:
The thing about Instagram is that, in order to succeed, you need to understand how its algorithm works, and how you can beat it.
Although that might seem too complicated at first, what it boils down to is frequently posting content your audience wants to engage with. 
Keep reading to understand why.
2010 to 2015: When Chronological Order Was the Algorithm
Or, in other words, when the Instagram algorithm didn't really exist.
When it was launched back in October of 2010, Instagram worked in a very simple way: posts would show up in your feed by chronological order, from newest to old, and, well… that was it.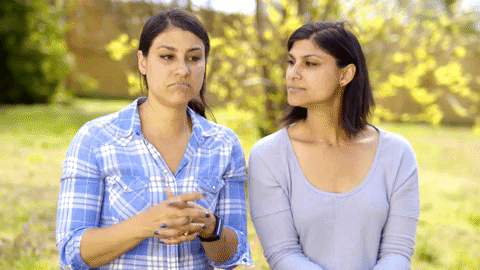 There was no magical recipe to pop up on your audience's feeds. There weren't even Instagram ads at this point!
All you could do was post at what seemed like good times to do so, and promote your profile through other channels.
That is, of course, until…
2016: The Year When Everything Changed
Six years after its debut, Instagram ended the reverse-chronological feed and you might even remember when that happened (because let's face it, this change did ruffle some feathers).
The platform's goal was to decrease the number of missed posts and, in order to achieve it, an algorithm was developed that would sort images and videos according to a business's efforts to create high-quality posts.
At this time, Instagram didn't go into too much detail about what actually was factored into the algorithm.
They shared some of the ranking factors, which included engagement, likelihood that a user would be interested in the post, timeliness, and others, and that was it.
However, over the past four years, a lot more information has been revealed, which allows us now to answer the million-dollar question…
How Does the Instagram Algorithm Work in 2020?
Nowadays, every person's feed is organized according to the algorithm's rules, which rely on three primary ranking signals:
1. Relationships
Also known as interaction history, this first ranking factor prioritizes users who already have a relationship with your brand profile.
In other words, it will bump up your posts for users who already interact with you.
It's important to note that these interactions go way further than likes and comments, but also include exchange of DMs, tags in each other posts, reshares, and views.
2. Interest
Second on our list in interest, which is also referred to as post type and sorts posts according to the type of content that the user typically enjoys.
The goal here is simple: to give users what they want.
This means that if people have engaged significantly more with posts that are similar to yours, then you are more likely to pop up in their feeds.
3. Timeliness
Last, but certainly not least, is timeliness, which, as the name suggests, refers to the time a post was made.
This third ranking factor, which is also known as publishing recency, says that posts that are more recent are more likely to be pushed to the top of people's feeds.
Although these are the three main criteria that affect a user's Instagram feed, they're not the only ones:
Frequency of use

: the less people use the app, the more they'll only see top performing posts.




Session time: the longer the time a user spends in the app, the more content they'll see.


Following count

: the more accounts a user follows, the lower the chances that they'll see every post.



7 Tips for Beating the Instagram Algorithm
Being familiar with the ranking criteria used in the Instagram algorithm is halfway to understanding how you can reach your marketing goals in the platform.
However, if you're new to the world of social media, or even digital marketing, you might still be wondering: how exactly can I use these new insights to outsmart the algorithm?
And here are our top seven answers:
1. Don't Underestimate Photo and Video Quality
Not every user will resonate with the content you create on Instagram, and although that will have an impact on your performance, it's also inevitable.
Photo and video quality, on the other hand, aren't as subjective.
Focus on the colors, contrast, sharpness, and composition, ensuring that any visuals you post are as striking as possible.
💡 Pro tip: While we're on the topic of video content, we'll give you one extra tip – start publishing more videos on Instagram. Posts that do include video get nearly 38% more engagement than posts that don't, so why not?
2. Post User-Generated Content
Posting user-generated content, or UCG, is a great way of beating the Instagram algorithm and it's no wonder why.
People will most likely tag your brand on this type of content and, if you repost it, they'll probably like and even comment it. 
In other words, you develop the relationship that plays such a big role in the algorithm!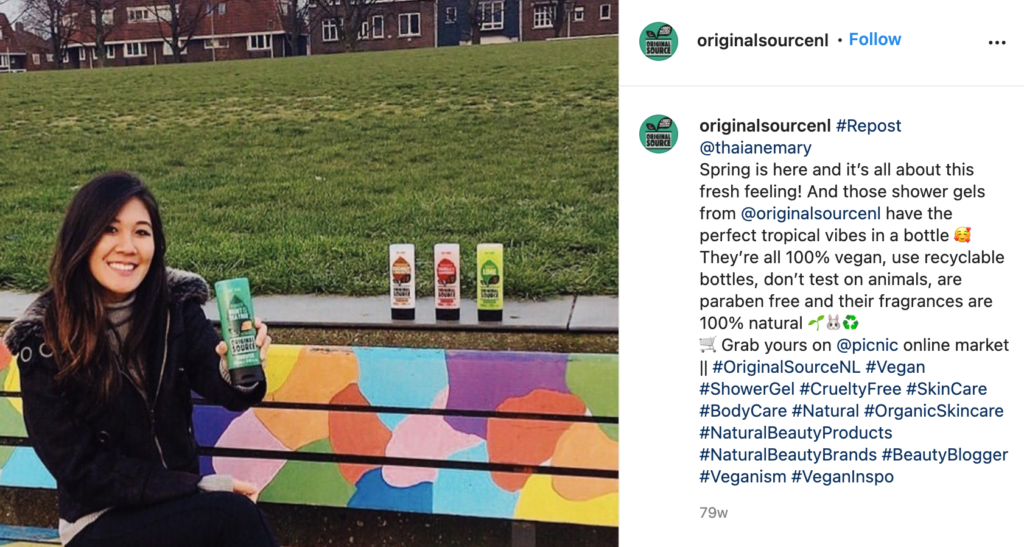 💡 Pro tip: If your business isn't that big yet and not many people are talking about it on Instagram, run a contest with a good prize and encourage them to create content you can reuse!
3. Make Sure Your Captions Are On-Point
Instagram is a visual-first type of platform, but that doesn't mean you should underestimate the power of words.
So our question, are you putting some thought into your captions, or writing the first thing that comes to mind?
Remember: your captions represent great opportunities to encourage interactions, whether you ask a question or encourage people to tag a friend, like in the example below!
4. Put More Effort Into Your Stories Strategy
Stories have become a huge part of Instagram, and they should definitely play a special role in your strategy to beat the algorithm.
Make sure, of course, to post relevant content on your Stories and to follow some best practices in order to boost your interactions on the platform:
Mention users

. When you do, they'll receive a push notification and a DM, and chances are that they'll reply!




Use stickers to your advantage

. Stories stickers have become incredibly advanced and there are three worth highlighting: the polls, slider stickers, and questions. Trust us, people love participating in interactive content like this!




Use the swipe up feature

. One of the most useful features of Instagram Stories for businesses is the swipe up, so make sure you use it to lead people where you want them to go.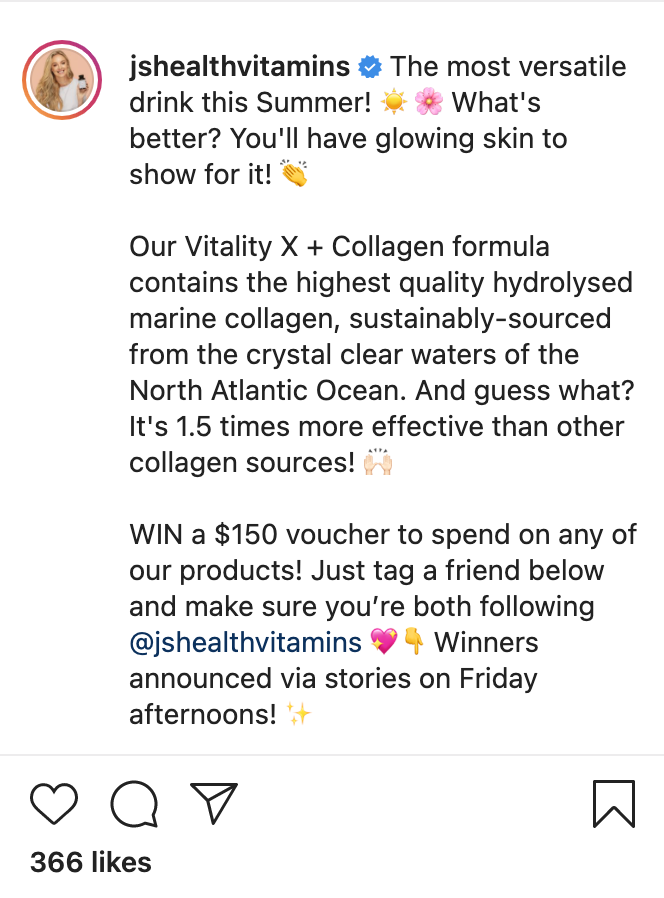 5. Don't Forget to Use Hashtags
Hashtags are still extremely powerful within the world of social media, and they're a tool you should definitely not ignore.
Our recommendation is that you utilize a balanced mix of:
Industry-related hashtags

Trending hashtags

Branded hashtags (like Nasty Gal's #NastyGalsDoItBetter, which currently has over 94 million posts associated with it!)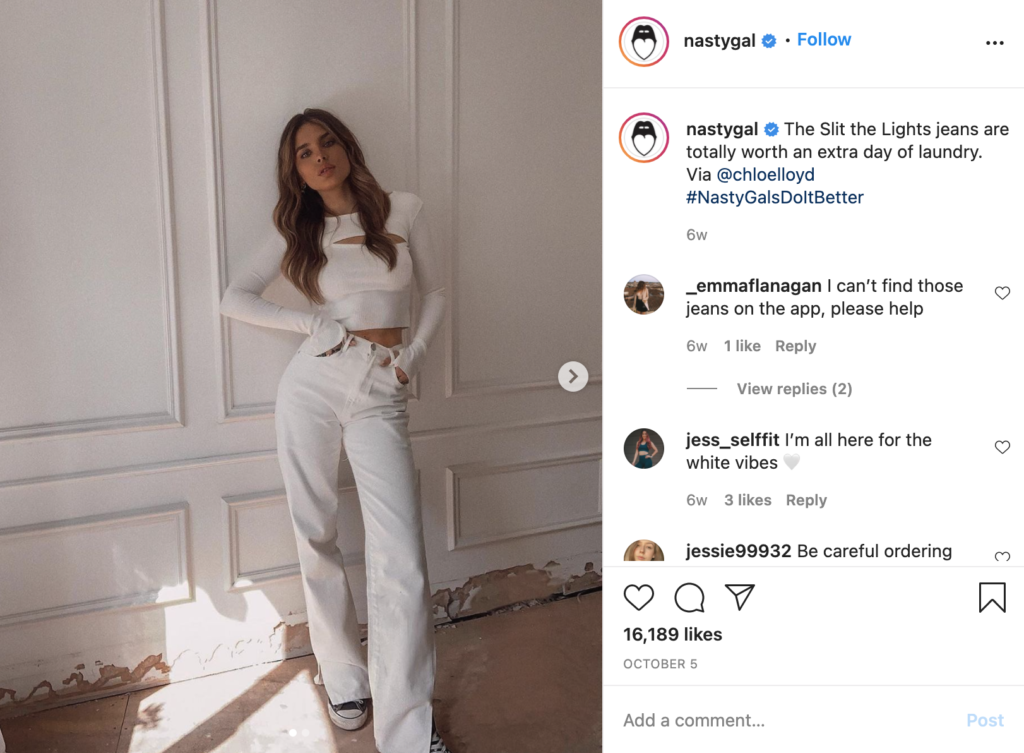 > Do you want to read more about how you can use hashtags on Instagram (and other social media platforms)? Check our beginners' guide to hashtags and learn all the tips you need to know! <<
6. Check Your DMs Regularly
We mentioned before that DMs contribute to your engagement rates, but that's not something that many businesses, or even influencers, know or consider.
Checking your DMs regularly will help you develop relationships and boost interactions – even if you reply with one or two emojis!
Plus, it will look good for your brand to actually engage in conversations with your audience.
7. Keep an Eye on Your Analytics
Mastering your social media presence is a long-term process and you'll be able to improve if you keep up with your analytics.
Instagram provides business users with an analytics page, where they can check all the relevant metrics, about their account in general and posts in particular.
Visit that page regularly, assess what's working and what's not, and make amendments accordingly!
Using Instagram to Grow Your Business
Instagram is a competitive platform, but now that you know how the Instagram algorithm works, as well as how you can outsmart it, you're ready to develop a winning profile and use the power of social media to grow your business.
Keep all our tips in mind, and remember that algorithms are ever-changing, so making sure to stay up to date with them is always a good idea!